Hybrid events are the future of modern-day event planning. If you're planning a hybrid event, whether it's your first or your fiftieth, you're likely wondering what will help make your hybrid event as impactful as possible. We've compiled a list of the most important tips to follow when planning hybrid events. Use our tools to make your next event amazing!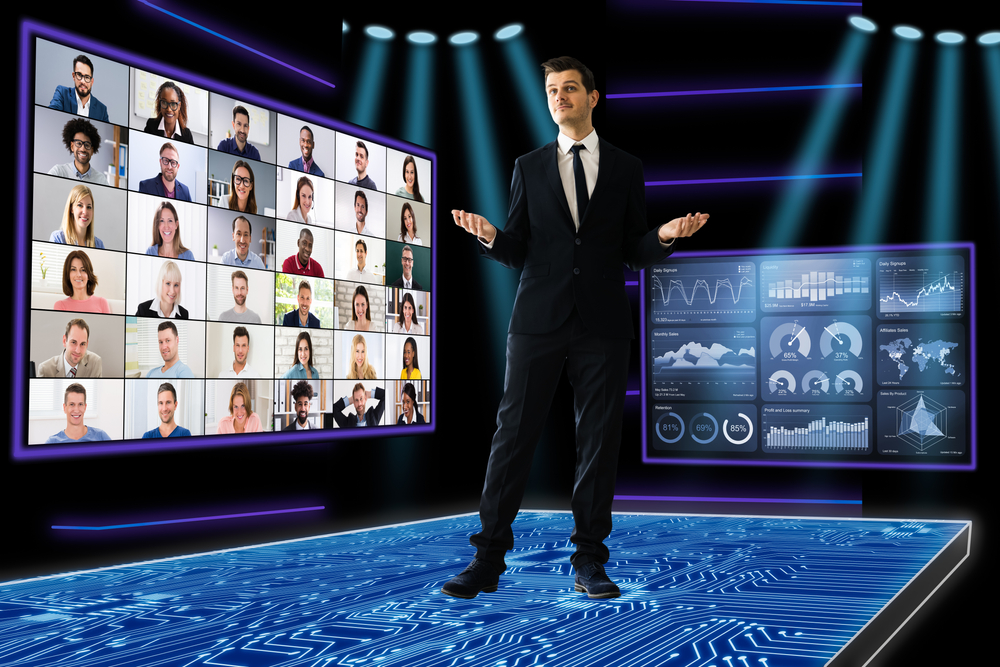 Hybrid events are events that have both in-person and virtual aspects that all work together. Hybrid events allow participants to experience the event from wherever they are — whether they want to be in-person or online. The world is in a constant state of flux with the availability of travel and gathering, so a hybrid event is a fantastic way to ensure everyone who wants to participate in your event, can. Read our most recent blog to learn more about what a hybrid event is!
10 Tips for Making Your Hybrid Event a Success
Acknowledge BOTH audiences

Use proper time management

Dress for the camera

Create shared experiences

Celebrate your sponsors

Offer the content for download

Keep event registration flexible

Use the power of social media

Lower your costs

Prepare for the worst. 
1. Acknowledge BOTH Audiences
Making sure both audiences feel important and acknowledged is very important. Hybrid events are all about ensuring that the event is different from both a traditional, live perspective as well as a virtual event. You don't want your in-person audience to feel like they should have stayed at home, and you don't want your virtual audience to feel like they're just watching a stream. Engage and interact with both groups — encouraging them to interact with each other — for the best results. 
2. Use Proper Time Management
If you have an event with two different audiences all over the world, time management is key. Starting late or early can make your audience feel like a hybrid event is too difficult to manage. Keep to a schedule and ensure presentations start on time so that your virtual audience as able to log on and not miss anything. 
3. Dress for the camera
You may have a lovely houndstooth blazer that you wear to in-person events, but dressing for the camera requires different choices. Small, complicated patterns often appear fuzzy and weird on screen, and bright or reflective materials can come off in a bad way. When dressing for your hybrid event, make sure you and your presenters remember to dress for the camera, not just to impress!
4. Create shared experiences
A key tip for planning a great hybrid event is to ensure that both your live audience and your virtual audience get a similar takeaway. Plan and create experiences that both audiences can engage in at the same time. Using polls, Q&As, and apps to help both audiences integrate with each other will help the hybrid event feel cohesive. 
5. Celebrate your sponsors
With hybrid events, you don't have the ability to strategically place a poster with all your sponsors' names. Call out your sponsors regularly throughout the program, introduce sponsor banners on screen, and potentially give sponsors a couple minutes to speak themselves (either as a recorded video or live). Hybrid events allow you to give sponsors more facetime with the attendees, so this can be a huge selling point as well as a way to properly thank them. 
6. Offer the content for download
Since most, if not all, content in a hybrid event is recorded you can offer participants a chance to download and keep the content for themselves. This can make attending an event feel worth it as there is a tangible takeaway. This also allows participants a chance to be in the moment and enjoying the event, as they'll know they can look back and take notes another time if they so choose. 
7. Keep event registration flexible
In uncertain times you don't want to sell virtual only or in-person only tickets. Hybrid event tickets can be sold as hybrid, potentially with a preference of in-person or virtual so you'll have an average base. This way, closer to the date you can receive final numbers of who will be in person and who will be virtual, and if you have to turn the entire event into a virtual event no one will feel taken advantage of or that they lost out on an in-person experience they were promised. 
8. Use the power of social media
Create event hashtags and even Facebook groups to connect your participants. Live tweeting the event will create an air of excitement and ensure that participants who are virtual have a heads up for different parts of the event. Social media will allow you to share videos and photos of the in-person side of the event as well as collect media from those who are virtual. Social media is a fantastic way to connect, and the platforms can be utilized to connect your two distinct audiences with each other.
9. Lower your costs
Hybrid events have the potential to cost less than traditional, in-person events. You can use smaller venues and save money on snacks and refreshments. You should also consider negotiating with vendors (venue, catering, lights, sound, etc.) to receive money back if the need to cancel arises. Do your best to plan to lower costs so that all ticket prices can be lowered and make virtual attendance feel worth it.
10. Prepare for the worst. 
If there's anything we can be certain of, it's that nothing is certain. Make sure that you have gathered all the information you need to prepare for when anything goes wrong. Put together a game plan for turning your hybrid event into an entirely virtual one as seamlessly as possible. Make sure that you have backups for your virtual side as well (triple test the internet connection and make sure you hardwire as much as possible for example). Whatever could go wrong, write it down and have an action plan in place.
The Most Important Tip to Planning a Successful Hybrid Event
An eleventh tip we have for planning a successful hybrid event is to work with Intelligo! We specialize in hybrid events that will leave your audience excited and happy to have attended. Our platforms are completely customizable to fit your event, and we have a dedicated support team for every event we run. If you want to plan a hybrid event that will knock the socks off both virtual and in-person attendees alike, work with Intelligo! Contact us about your next event, we'd love to work with you!
Are you looking to host your own hybrid event?